Academy
We believe every child has the desire
and ability to learn.
It's a Sensory World! Academy was developed to serve children ages 2 to
22 with developmental delays and disabilities, specifically those who have
not yet found success in traditional educational settings.
At ISW Academy, we take a whole-child, "bottom-up" approach to development and learning.
We aim to give each child the tools necessary to find success in a group environment, both socially and academically. To achieve this, we develop a customized, sensory-based plan that targets your child's specific developmental needs. With our highly intensive, individualized approach, children begin to improve self-regulation, emotional regulation, communication, and attention. Students have also demonstrated an increase in awareness, independence, and academic performance and have displayed an improvement in social behavior.
Is to create a balanced developmental profile to prepare children for their next steps. Our program offers a small student-to-teacher ratio of 3:1 or 4:1 depending on age and developmental level.
In 2008, It's a Sensory World! introduced a small program called "Preschool Prep" for children ages 2 to 4. We understood the need for a preschool program in the Dallas area that put play back into preschool. Not just any play, but multi-sensory play, engaging all eight senses. Our goal was to help prepare children for success, along with their parents and therapists.
Over time, this program began to include older children at the request of parents in the community. We quickly realized that all children needed the opportunity to move throughout the day, build trusting relationships with teachers, and build friendships with peers. They needed a place where skilled teachers understand and use therapeutic techniques to target motor skills, self-regulation, esteem, communication, language, and processing. In addition, our families needed a team of support surrounding them. A place where parents, teachers, and therapists work together to meet each child's needs best.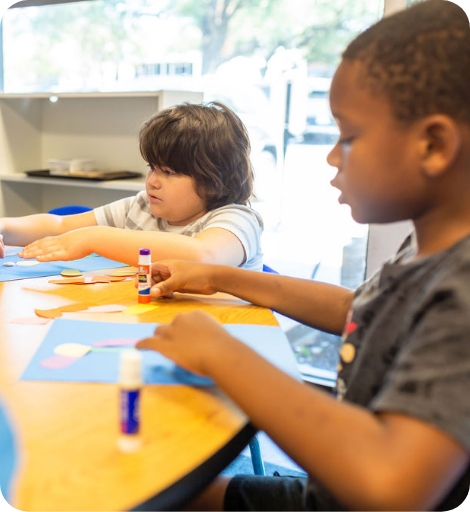 Admissions
Our Process
01._Tour
We require all parents to first tour our space. We ask that you come without your students for this preliminary visit. Parents and/or caregivers will meet with our team. During the visit, parents will be given a comprehensive tour of the center and an in depth look at our program. A short meeting will follow the tour, allowing our director to learn more about your child, their needs and answer any important questions. However, we understand everyone has different circumstances. We will do our best to accommodate your family if we need to condense the process.
02._Apply
Once you tour, we will send you the paperwork via email so you can formally apply. There is an application fee of $20.
03._Meet & Greet
The next step in the process would be allowing the child to come for a visit. Bring your student along so we can meet them, they can meet us and we can both determine fit. The director and parents and/or caregivers will decide on an appropriate date, time, and classroom for the child to visit.
Tuition & Fees
TUITION
Fees
Fees vary and are subject to change
KID CARE
Our kid care program is provided to our families enrolled in ISWA. Rates are based on the number of hours utilized per month and are subject to change. Please reach out to us for more information."
FINANCIAL AID
It's a Sensory World! is a 501(c)(3) nonprofit organization. We offer our tuition at a reduced cost to families. We fundraise each year for roughly 30% of the operational costs to run the program at a reduced rate. For this reason, we are currently unable to offer additional financial aid at this time. We have a small scholarship fund, but families qualify to apply beginning in their second year at ISW Academy.